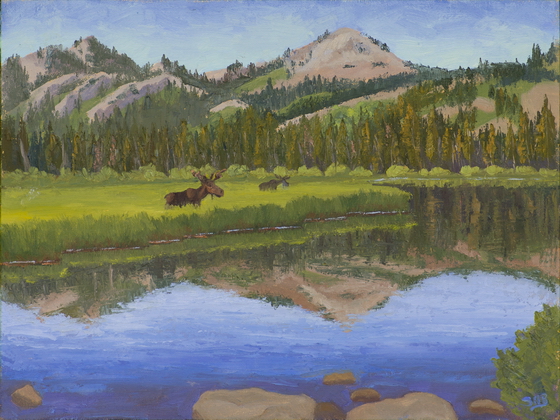 A painting by Susi Havens-Bezaire completed on July 2, 2016
I was set up along the edge of pathway that wraps around the lake when two male moose came running by in the reeds across from me. They stuck around for about 40 minutes, eating reeds, playing in the water and chasing each other. About an hour after the excitement was over, a third male moose cut across the path about 10 feet from me and posed nicely for me for about 10 minutes while munching on the willows. Sorry to say, I didn't get a model release from any of them.
Silver Lake, Brighton Ski Resort, Brighton, Utah, USA, 40.6050491, -111.5870667
Plein Air Field Study, Oil on Linen/Gatorboard, 16" x 12"
© 2016 Susi Havens-Bezaire