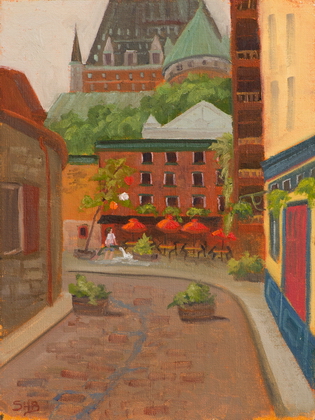 A painting by Susi Havens-Bezaire completed on September 13, 2015
The streets were so crowded in the afternoon, I chose to return early in the morning to paint. Torn between painting Quebec's historic hotel and the "Old European style streets". I found a great spot Where I could incorporate both themes in this painting. Turns out it was also a stopping spot on the walking tours of the old city.
Rue Cul de Sac & Rue Notre Dame, Quebec City, Quebec, Canada, 46.8123779, -71.2030716
Plein Air Field Study, Oil on Linen/Baltic Birch, 9" x 12"
© 2015 Susi Havens-Bezaire