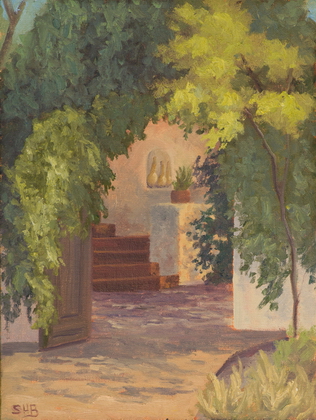 A painting by Susi Havens-Bezaire completed on February 19, 2015
Associate Third Place, TPAPS Fall 2015 Exhibition
My friend, Ronnie Silver, took me to this delightful park . I loved the filtered light in this small courtyard. A plein air painting group from Green Valley, arrived shortly after I began painting. One of the artist told me that this was a favorite spot for many artists.
Tohono Chul Gardens, Tucson, Arizona, USA, 32.3393402, -110.9803085
Plein Air Field Study, Oil on Linen/Baltic Birch, 12" x 9"
© 2015 Susi Havens-Bezaire