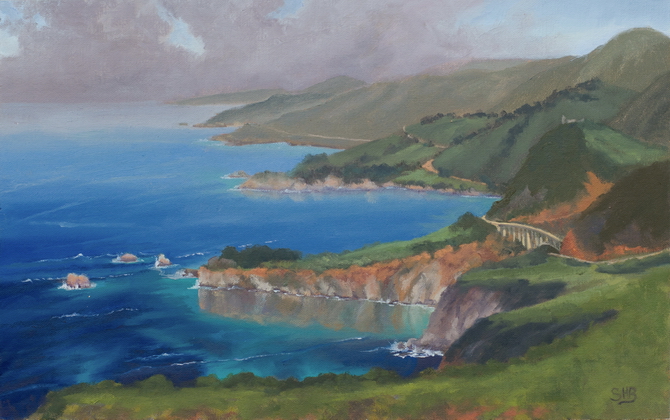 A painting by Susi Havens-Bezaire completed on April 12, 2014
On Sunday, on my way to McWay Falls, I stopped at Hurricane Point and took some photos of this striking view. I decided to return to paint the Point and the Bixby bridge on my return from Julia Pfeiffer Burns State Park. By the time I returned, it was so windy my easel would stay up - in fact the lettuce from my salad was blowing out of my bowl. No wonder it's called Hurricane Point! So I held tightly onto my sketch book and completed a sketch. Following the convention, I headed back to point on a calmer day. Many painters from PACE stopped to chat while I was painting.
Hurricane Point, Big Sur, California, USA, N36.3576546, W-121.9021072
Plein Air Field Study, Oil on Linen/Gatorboard, 16" x 10"
© 2014 Susi Havens-Bezaire