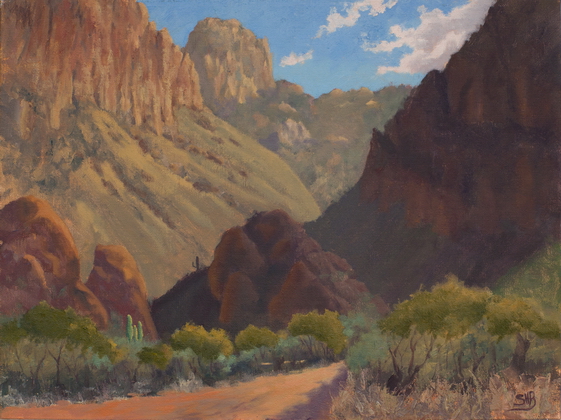 A painting by Susi Havens-Bezaire completed on March 8, 2014
Baboquivari is the most sacred place and mountain to the Tohono O'odham people. The rock god I'itoli, also spelled I'itoi, lives in a cave on the northwest side of the mountain that he enters by a maze of passages. The Tohono O'odham still regularly make pilgrimages to the cave, leaving offerings and prayers for I'itoli. Dave and I were invited to join a faith group to a picnic and hike to the cave. Rather than the hike, I took advantage of the rare invitation to paint this beautiful and sacred spot.
Tohono O'odham Indian Reservation, Sells, Arizona, USA, N31.7810078, W-111.6313934
Plein Air Field Study, Oil on Linen/Gatorboard, 16" x 12"
© 2014 Susi Havens-Bezaire