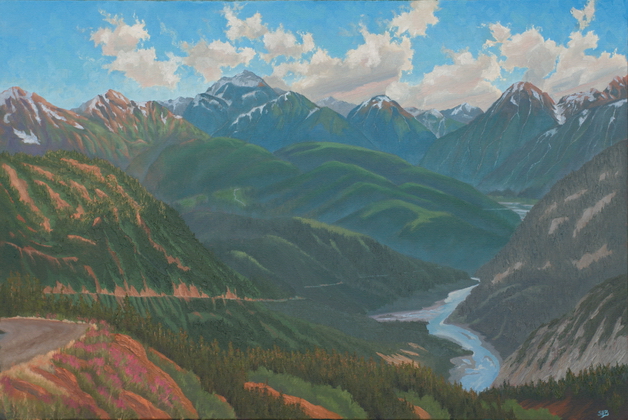 A painting by Susi Havens-Bezaire completed on October 19, 2013
The Granduc Mine road to the glacier starts in Hyder, Alaska at sea level and follows the Salmon River to the Salmon Glacier at 4,300 ft. up in the alpine in BC. The road goes by several old gold mines which have been operating since the 1920s. Three miles past Hyder is Fish Creek Park, where from July to September, the salmon run provides an extensive food supply for bears, gulls and bald eagles. A studio piece from a sketch & photos completed 31-Jul-13.
Tongass National Forest, Stewart, British Columbia, Canada, N56.1687469, W-130.1506287
Studio, Oil on Canvas, 36" x 24"
© 2013 Susi Havens-Bezaire