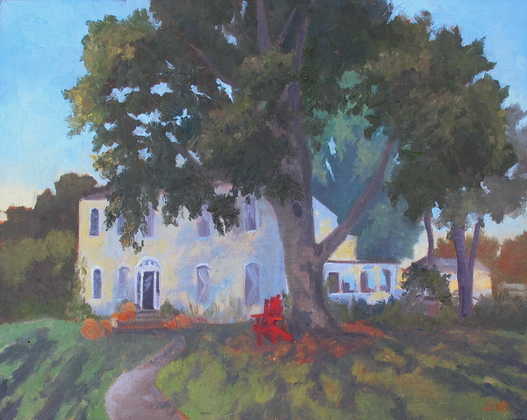 A painting by Susi Havens-Bezaire completed on September 26, 2013
I arrived at 7:30a.m. at this delightful B & B on a country road about 10 miles out of Granville. , the owner had signed up to have an artist paint his property for our OPAS event. The early morning sun provided some delightful high notes on the house, lawn and bright red chair. Seven exotic chickens wandered through the flower beds looking for food while two competing roosters had a "crowing competition". A great morning on a farm!
Columbus Rd, Granville, Ohio, USA, N40.0429688, W-82.5728378
Plein Air Field Study, Oil on Linen/Gatorboard, 14" x 11"
© 2013 Susi Havens-Bezaire