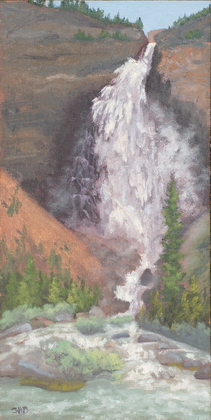 A painting by Susi Havens-Bezaire completed on August 12, 2013
This is a waterfall that one could climb the rocks at the bottom and get close enough for a shower! I chose a vantage point that included the beginning of the river as well. The spot where the rock walls narrowed created a powerful force of water pushing out and then falling. I'd like to paint just the top of this falls in a larger format to get the sense of power.
Yoho National Park, Field, British Columbia, Canada, N51.4390030, W-116.5373764
Plein Air Field Study, Oil on Linen/Baltic Birch, 8" x 16"
© 2013 Susi Havens-Bezaire