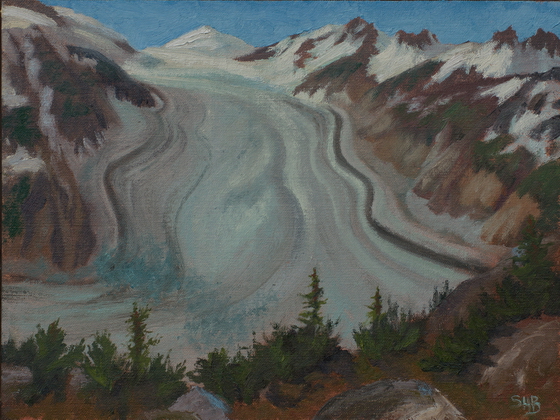 A painting by Susi Havens-Bezaire completed on July 31, 2013
How can a short 23 mile gravel road have some of the most rugged but spectacular scenery we've seen? In addition to a great spot to view salmon spawning, bears, eagles and a wolf catching these huge fish, at the end of the road one stands overlooking the Salmon Glacier - the 5th largest is Canada. Around every corner is another fantastic view - especially heading back down the valley, but the narrow road made it difficult to find a safe painting spot. Dave took photos while I painted the summit and he followed in the car as I walked down the road for a ways and took reference photos. Gorgeous day. gorgeous views!
Salmon Glacier Road, Tongass National Forest, Hyder, Alaska, USA, N56.1687469, W-130.0506287
Plein Air Field Study, Oil on Linen/Baltic Birch, 12" x 9"
© 2013 Susi Havens-Bezaire