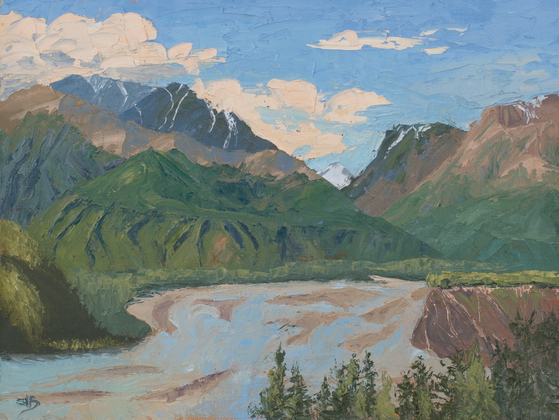 A painting by Susi Havens-Bezaire completed on November 25, 2013
While my husband and visiting son went whitewater rafting, I stopped at a close by viewpoint of the glacier valley to paint this delightful valley. I only had time to complete a sketch, take some photos and finish the underpainting. This was completed, following corrective surgery on my right hand from a fall in Jasper National Park, in November using a palette knife with my left hand. A pretty difficult task!
Mile Marker 95 Glenn Highway, Glacier View, Alaska, USA, N61.7963448, W-147.9737549
Plein Air Field Study, Oil on Linen/Gatorboard, 14" x 11"
© 2013 Susi Havens-Bezaire