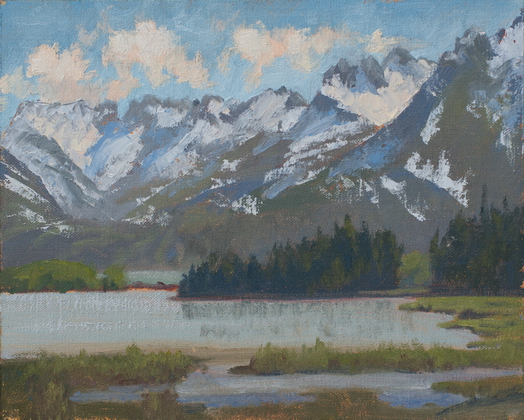 A painting by Susi Havens-Bezaire completed on June 22, 2013
We arrived into Valdez early in the afternoon. Artist Faith Revell stopped by to introduce herself and we set a time to paint later that night - since it stays light until almost 11:30pm. So, I headed a 1/4 mile back down the road to paint the mud flats I saw when we came in before our paint date. There were many distractions - a very dusty and noisy spot due to road construction and a dive bombing gull kept flying close to my hat. I would like to paint this at high tide, perhaps I could re-visit this in the studio.
Richardson Highway, Valdez, Alaska, USA, N61.1380997, W-146.3290863
Plein Air Field Study, Oil on Linen/Baltic Birch, 10" x 8"
© 2013 Susi Havens-Bezaire