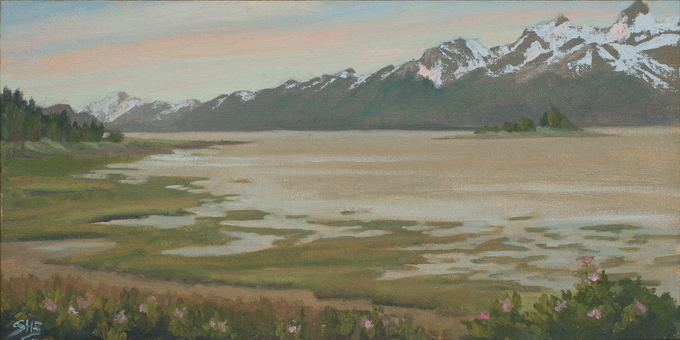 A painting by Susi Havens-Bezaire completed on June 16, 2013
Donna Catotti and Bev Schupp wanted to return to the same spot we painted yesterday. Today, we arrived at high tide and I was interested in the patterns of grass and water on the flats. I remained on the road to add the wild roses growing along the edge - in fact there are wild roses blooming all over this peninsula! The Chikat River is fed by many glaciers which makes the water a pale yellow ochre when clouds fill the sky.
River Drive, Haines, Alaska, USA, N59.2199898, W-135.4536743
Plein Air Field Study, Oil on Linen/Baltic Birch, 16" x 8"
© 2013 Susi Havens-Bezaire