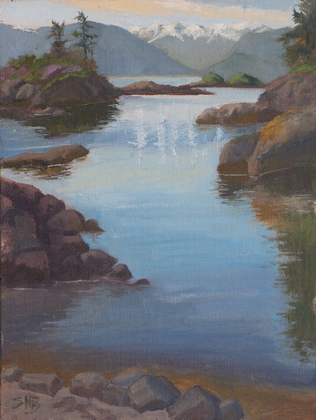 A painting by Susi Havens-Bezaire completed on May 5, 2013
Victoria's Al Fresco Ken Faulks took me, Desiree Bond and Jim McFarland to a beautiful cove where his aunt and uncle used to live. We were delightfully entertained by leaping harbor seals smacking their fins on the surface, noisy sea lions, Canadian Geese and their new babies, and lots of other birds I didn't recognize. As a parting gift, Jim gave me his painting - painted about 6 feet from me.
Duke Rd, Metchosin, Vancouver Island, British Columbia, Canada, N48.3875427, W-123.5038300
Plein Air Field Study, Oil on Linen/Baltic Birch, 12" x 9"
© 2013 Susi Havens-Bezaire