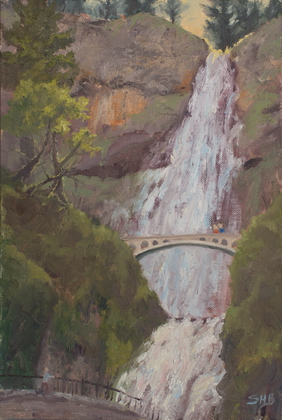 A painting by Susi Havens-Bezaire completed on April 24, 2013
I learned an important lesson for plein air painting - come prepared for anything. We headed out to see the iconic falls in the Gorge and it was impossible not to want to paint it! Unfortunately, the falls is soooo tall that I didn't have a corresponding canvas that I could replicate the height. The painter's "photoshop" allowed me to make it shorter, but I think I still managed to portray the spectacular falls.
Columbia River Gorge National Park, Portland, Oregon, USA, N45.5773277, W-122.1160431
Plein Air Field Study, Oil on Linen/Gatorboard, 8" x 12"
© 2013 Susi Havens-Bezaire