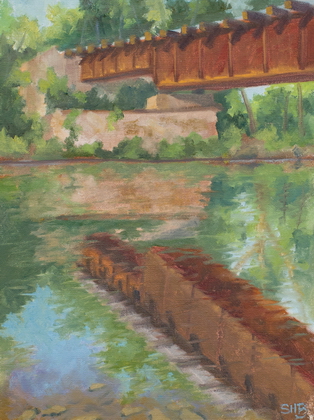 A painting by Susi Havens-Bezaire completed on August 22, 2012
After a full day of painting with OPAS artist Doreen St. John, I stopped to do a small hike to the river. The evening sun highlighted this railroad bridge and the reflections in the calm water enticed me to do one more painting before heading home. It was so quiet that a small black mink crawled out of the water about 6 feet from me. He posed for a while and then strolled by me to the taller grasses along the bank.
Deep Lock Quarry, Cuyahoga Valley National Park, Peninsula, Ohio, USA
Plein Air, Oil on Linen/Baltic Birch, 9" x 12"
© 2012 Susi Havens-Bezaire