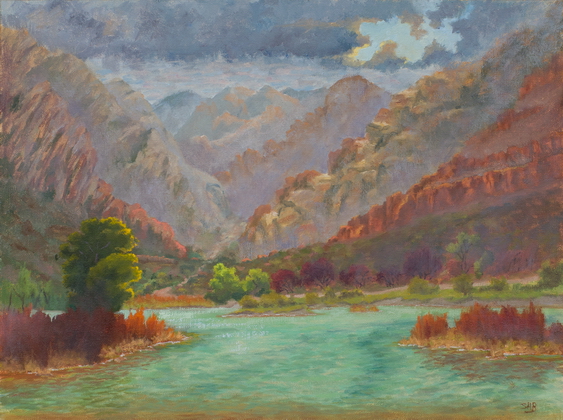 A painting by Susi Havens-Bezaire completed on July 7, 2012
Lisa Faulkner-Wright, Bridgette Turner, Karen LeValley and I decided to return to paint Bonnie Springs one more time before I left Las Vegas. A sunny afternoon turned into a torrential downpour (I used grocery bags as a rain coat). Suddenly, the clouds opened and a small spot of sun gloriously highlighted the canyon floor, trees, water and reeds and made it all worthwhile! My memory was so strong of this painting event, I decided to re-visit it in a larger format.
Spring Mountain State Park in Red Rock Canyon Conservatory, Las Vegas, Nevada, USA
Studio, Oil on Linen/Baltic Birch, 16" x 12"
© 2012 Susi Havens-Bezaire