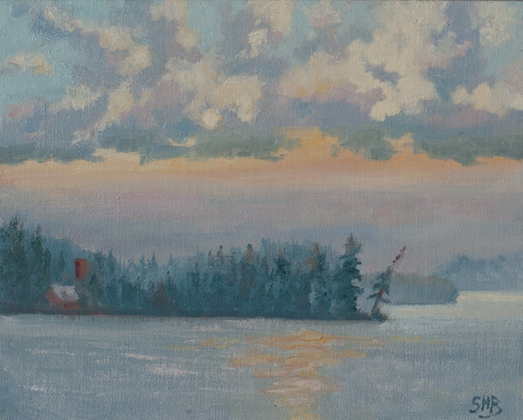 A painting by Susi Havens-Bezaire completed on June 20, 2012
Adirondack Mountain Painters: What fun! On this beautiful, foggy morning, I got up early to try my hand at painting in a canoe. I paddled to a quiet cove, intent on painting the first light hitting the water and trees heading into a tributary. As I was setting up my easel (a little tricky on a rocking canoe) the boat floated in circles and when I looked up to start painting, I saw another great sunrise. The water was still enough that I only needed a few occasional paddle strokes to keep in place - until 2 guys in a fishing boat chugged by to see what I was doing.
Lowe St. Regis Lake, Paul Smith College, New York, USA
Plein Air, Oil on Linen/Baltic Birch, 10" x 8"
© 2012 Susi Havens-Bezaire